Making & Delegating Decisions with Bob Blumberg
This is a podcast episode titled, Making & Delegating Decisions with Bob Blumberg. The summary for this episode is: <p>Our first guest of Season Two is none other than Bob Blumberg, who—in addition to being Matt's dad—is a retired tech founder and seasoned CEO.&nbsp;</p><p>In today's episode, Bob shares management wisdom in the form of his matrix for decision-making and delegation. This unique approach nurtures growth and empowers managers to make the right calls (and to know when collaboration is key). Tune into this insightful episode and unleash the power of effective delegation!</p>
⬛️ The Matrix of Decision Making
01:39 MIN
4️⃣ Breaking down the 4 boxes
02:04 MIN
💪🏻 Empower others to make decisions
00:52 MIN
INTRODUCTION: Welcome to The Daily Bolster. Each day we welcome transformational executives to share their real world experiences and practical advice about scaling yourself your team, and your business.
Matt Blumberg: Hi, I'm Matt Blumberg, Co- founder and CEO of Bolster and welcome to The Daily Bolster. This is the first episode of season two of The Daily Bolster and I am very pleased to welcome as my guest, Bob Blumberg. Bob is a retired tech founder and entrepreneur and longtime CEO, who is currently the Executive Chairman or CEO Advisor to a number of early stage companies. He is also, as you might have guessed, my dad and someone I always describe as my entrepreneurial hero. So welcome to The Daily Bolster, Bob.
Bob Blumberg: Thank you very much, Matt. I'm delighted to be here.
Matt Blumberg: All right. So I thought we would kick off season two, since this is a podcast that gives advice to CEOs, with some advice that you've given me over the years. And I know you've spoken about a lot in business school classes that you've taught and the like, which is your, probably not patented or trademarked, but maybe it should be, matrix for delegation and decision making in an organization.
Bob Blumberg: Great. Happy to talk to it. And I've gotten ideas for this from other people, but I think the way I put it together was my own and unique. And I found it very helpful in not only managing, but helping to develop managers underneath me. So what I told my direct reports when I was the CEO of a company and encouraged them to tell their direct reports was using a matrix on facing issues and making decisions. And imagine a two- by- two matrix, where on one axis there is the consequences of a decision. Is it a decision that won't have much consequence? One way or another, it has to be made. Or could it have great consequence? Great consequence might be, very expensive mistake or huge delay in a schedule that affects other departments as well as our own. So you can imagine along that axis, whether something's a critical decision or just an ordinary decision. And then the second axis, the vertical axis would be how familiar is the person who has to make this decision with this kind of decision? Let's say you have a purchasing manager, is it buying a bunch of resistors that cost less than a penny each? Or is it placing an advanced order for semiconductors, very expensive ones, for filling a possible pipeline over the next year? So that's just an example. But whether it's something you're very familiar with or something that's outside your area of expertise.
Matt Blumberg: Got it. All right. So we have our two- by- two, which means we have four boxes?
Bob Blumberg: Right. And the first box is where the person who needs to make the decision is pretty familiar with this kind of decision. It's not something that's way outside his area of expertise or experience. And the consequences, if he makes a mistake, are not very great. That's easy. I want that person to make that decision, not bother to tell me, it's part of what we're paying him for and just get on with it.
Matt Blumberg: All right. That's the easy box.
Bob Blumberg: At the other extreme diagonal in the matrix, it's where the consequences are very big if the decision is the wrong one and the person is not terribly familiar with how to do it or where to go. In that case, I want them to come to me and we will make the decision together. I want him to come not just and dump it on my lap, I want him to come with a layout of what the facts are, what the alternatives are, what his or her recommendation is. But together we will take responsibility for the decision. The other two boxes where either the consequences are great, but he's familiar with it or the consequences aren't very good, but he's never seen this kind of decision before. I want that individual to make the decision, but then inform me of what he's done so I don't get blindsided if it goes awry. So this helps, not only does it mean I don't have to make every decision, it means I get a chance to train people in decision making where they're unfamiliar or where the consequences are big. And it means it gives that person the similar matrix to use with his direct reports to help train them and help them grow in the organization with their own capabilities. So that's the matrix.
Matt Blumberg: It's a great matrix, it's very easy to remember and it really does help push decision making to the edges of the organization wherever possible, which is a great practice for everyone. Dad, Bob Blumberg, thank you for being our first guest of season two on The Daily Bolster.
Bob Blumberg: Delighted to be here and share whatever management techniques I can to help other entrepreneurs.
DESCRIPTION
Our first guest of Season Two is none other than Bob Blumberg, who—in addition to being Matt's dad—is a retired tech founder and seasoned CEO. 
In today's episode, Bob shares management wisdom in the form of his matrix for decision-making and delegation. This unique approach nurtures growth and empowers managers to make the right calls (and to know when collaboration is key). Tune into this insightful episode and unleash the power of effective delegation!
Today's Host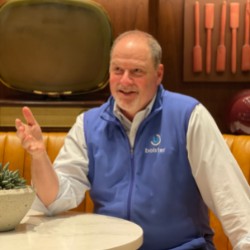 Matt Blumberg
|
Co-Founder & CEO, Bolster
---
Today's Guests

Bob Blumberg
|
Principal, Blumberg & Co.
Bob Blumberg is a retired tech founder/entrepreneur who is currently the executive chairman or CEO advisor to multiple early-stage tech companies.
Connect on LinkedIn