Keeping Your Entrepreneurial Spirit with Henry Schuck
This is a podcast episode titled, Keeping Your Entrepreneurial Spirit with Henry Schuck. The summary for this episode is: <p>Henry Schuck, founder and CEO of ZoomInfo, brings an entrepreneurial spirit to the job of running a large public company. In this episode, he shares the four things he thinks about as he works to maintain the energy, enthusiasm, and fast decision making you might find at a smaller company.&nbsp;</p><p>🙌 Show up prepared&nbsp;</p><p>👁️ Pay attention to the details</p><p>❓ Question everything</p><p>🏆 Have passion for success</p><p>Henry's insights provide valuable lessons for CEOs looking to drive growth, foster innovation, and lead with authenticity at any stage.&nbsp;</p>
🏆 Have passion for success
00:52 MIN
INTRODUCTION: Welcome to the Daily Bolster. Each day we welcome transformational executives to share their real world experiences and practical advice about scaling yourself, your team, and your business.
Matt Blumberg: Welcome to The Daily Bolster. I'm Matt Blumberg, co- founder and CEO of Bolster, and I'm here today with Henry Schuck. Henry is the founder and CEO of public company, ZoomInfo, which is a modern go- to- market platform with B2B data at its core. Henry, good to see you.
Henry Schuck: Hey, Matt. Good to see you too.
Matt Blumberg: Thanks for being here. It is the unusual founder that takes the company from idea through... I don't know if you're considered large market cap. I consider you large market cap public. So first of all, congratulations on getting ZoomInfo there.
Henry Schuck: Thank you.
Matt Blumberg: And my question, because it's so unusual that a founder goes all the way through, my guess is that you are, in your heart of hearts still, a pretty entrepreneurial person. And my question is, how do you bring that kind of entrepreneurial fire to the job of running a large public company?
Henry Schuck: Yeah, so I think about this a lot because you see other large companies and you can walk through their offices and it feels like there are cobwebs on things and things are really slow. And so I work really hard to maintain the energy and enthusiasm and fast decision- making that you find in a small company at this scale. So I have kind of four things I think about. One, I show up well, and so when I come to a meeting with a customer or I'm going to meet one of your customers, or I come to some kind of product meeting, I have read the materials. I am prepared for the meeting. I understand the customer, I understand the use case, and so you're never going to show up and see me phone it in. I'm not going to, literally or figuratively, I'm not going to be on my phone. I'm going to be well- prepared and show up well to everything. And I think that sets a pretty good example.
Matt Blumberg: Absolutely. Yeah.
Henry Schuck: The second thing is, people used to say this to me all the time, they'd go, " I just don't understand how Henry understands the details of all of these things. Like he's really in the details and he really understands things." And they'd go, " He's so smart." And it's like, " I'm not actually so much smarter than everybody. I'm just tending to pay way more attention than anybody in any meeting that I'm in." And for a number of reasons, number one, I'm taking notes on everything. I'm trying to really understand what we're trying to do. I'm trying to give a perspective into what we're trying to do. And maybe most importantly, I'm trying to be respectful of the people who are showing up to those meetings because people, when they know they have a meeting with me, especially when it's more than my direct reports and level below that, they're probably nervous about the meeting. They probably spent a lot of time preparing for that meeting. They thought about it for the last week. They put together a slide deck, maybe they put together something for me to read, and I want to be super respectful of that time. And so in a meeting, you're not going to find me distracted. You're not going to find me on Slack. You're going to find me all in. And I oftentimes think about, imagine when you were in college, if every class you went to, you were just fully focused, taking incredible notes of everything that got said in the class and really just all in every class, of course you would do incredibly well in that class. And so I prepare well, and I'm paying a ton of attention in all of our meetings.
Matt Blumberg: I'm sensing a theme so far with these two. You're still in there, you're doing the homework, you're doing your-
Henry Schuck: I'm still in there and doing the homework.
Matt Blumberg: Number three.
Henry Schuck: Number three is I question everything until I understand the details. And I think that creates a level of expectation across the company. And I get very frustrated if somebody below me understands the details less than I do on a specific new subject. And so when I show up, I'm going to ask and ask and ask until I really understand something. And so I think people recognize that understanding the details are really important. And so far at this company, my most successful leaders are ones who can operate at 30,000 feet strategically, but can also go all the way down in the details on something and they understand the makeup of how we're doing any given part of the business.
Matt Blumberg: Got to sweat the details. All right, bring us home. What's number four?
Henry Schuck: I am passionate about winning and not losing. And so the way that shows up is if you have a renewal that's on the ropes, if you have a new deal that you're trying to get across, I will leverage my network. I will film a video for you. I'll write an email for you. I will show up to help you win or not lose and protect sort of your book of business. And oftentimes, I'm going to go well out of what you would've expected me to show up to do. At President's Club last year, I was really proud of the way I got introduced because the person who introduced me said, " It's almost certain that if you're in this room at some time during the last year, Henry showed up on a deal with you, helped you with an email, reached out to his network to help you bring something across the line." And so I'm passionate about helping our teams win.
Matt Blumberg: That's amazing. How many employees are you guys now?
Henry Schuck: About 3,500.
Matt Blumberg: 3, 500 people. And I totally get now how you bring the entrepreneurial fire to it every day. Henry Shuck from ZoomInfo, thank you so much for being here.
Henry Schuck: Thank you, Matt.
DESCRIPTION
Henry Schuck, founder and CEO of ZoomInfo, brings an entrepreneurial spirit to the job of running a large public company. In this episode, he shares the four things he thinks about as he works to maintain the energy, enthusiasm, and fast decision making you might find at a smaller company. 
🙌 Show up prepared 
👁️ Pay attention to the details
❓ Question everything
🏆 Have passion for success
Henry's insights provide valuable lessons for CEOs looking to drive growth, foster innovation, and lead with authenticity at any stage. 
Today's Host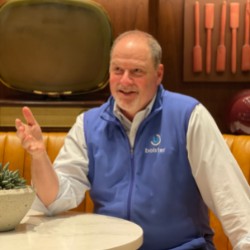 Matt Blumberg
|
Co-Founder & CEO, Bolster
---
Today's Guests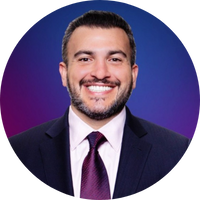 Henry is founder and CEO of public company ZoomInfo, a modern go to market platform with B2B data at its core.
Connect on LinkedIn!